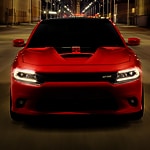 When one is driving a car, one of the most noticeable aspects of that car is the interior. While the exterior is seen by everyone, the interior is often exclusive to the driver. Because of this, the interior of any car is often a major factor when it comes to making a new purchase. Fortunately, the Dodge Charger, a popular mid-sized sedan, offers a stunning interior that is perfect for any driver or passenger.
Steering
One of the most important aspects of the Dodge Charger's interior is the steering options that it provides. Technologies such as Race Cooldown, Line Lock, Launch Control, and Launch Assist ensure that you have the performance that you need on any drive through Porterville.
Design
The design of the Charger's interior is one of the most impressive elements. The sleek and sharp atmosphere make any driver and passenger feel completely at home. If the Dodge Charger sounds like it might be the perfect car for you, schedule a test drive at your local Porterville Chrysler Jeep Dodge today!