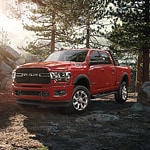 Ram 2500 is a well-known, highly respected pick in the heavy-duty pickup truck category. This popular ride combines brilliant engineering and technology with sheer muscle for worksite handling that can't be bested. New Ram 2500 powertrain options make our Porterville Chrysler Jeep Dodge team very excited by this truck's evolution. Take the following two options for your info.
Classic Clutch Pedal Performance
Ram 2500's Six-Speed Manual Transmission takes clutch pedal performance to a new level. The clutch has special wear-resistant technology for durability, offering smooth, consistent shifting with no lag between gears.
The Legend of HEMI
Few engines are more legendary than HEMI, and Ram 2500 comes with a 6.4L HEMI V8 just for good measure. This textbook model of optimal combustion has two spark plugs per cylinder for enhanced peak power and torque. The result is a beastly ride that can comfortably tow up to 16,000 pounds through Porterville and countryside.
Test drive the Ram 2500 at Porterville Chrysler Jeep Dodge today to experience its powertrain options for yourself.